Contents
When you start using eChecks, your check number automatically starts at VV002, since you write your first eCheck to us as payment. You can change the numbering sequence, but should follow some guidelines.
Can I let the Deluxe Payment Exchange platform automatically assign check numbers?
Yes, many of our customers let DPX number the checks for them. Here's how it works by default:
When the DPX platform creates check numbers, it assigns a "VV" prefix to the check number in the upper right hand corner of the check.
The bottom codeline of the check will not display the "VV" since non-numeric characters are not allowed in the codeline.

Note: If you are sending positive pay files to your bank, simply send the bank the check numbers without the "VV" since they are reading check numbers from the codeline of the check at the bottom.
---
Can I change the check number on my eChecks?
Yes, you can certainly change the check number of the eChecks, but should keep the "VV" prefix on the check number.
Please note: If you remove the "VV" prefix from the check number the DPX platform will not keep your number sequence.
Changing the number using the website.
If you're creating eChecks from our website and want to change your check number, simply key in whichever check number you'd like preceded by the "VV" prefix (e.g. VV926829).
Note: Make sure to use capital "VV" or the numbering sequence will not be maintained.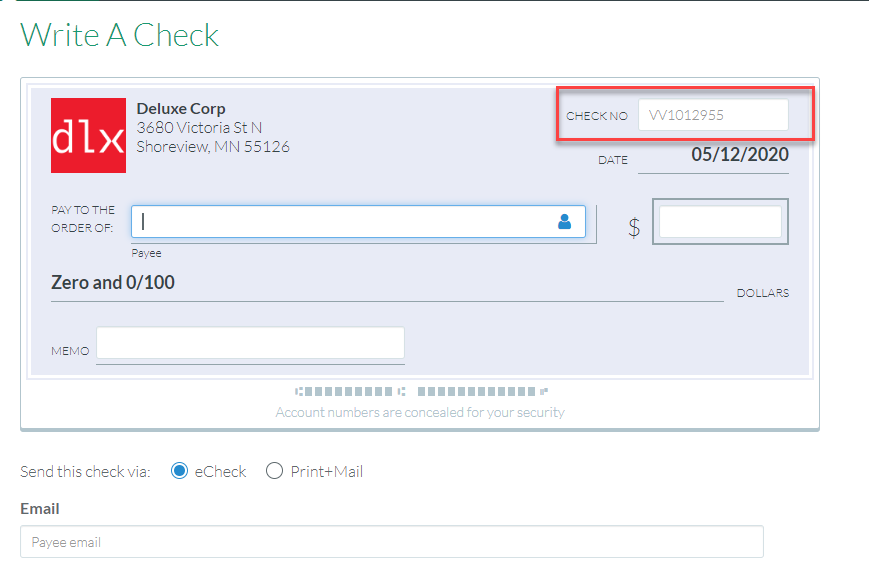 Changing the number while using our QuickBooks Add-on.
If you're using our Quickbooks add-on, you'll need to change the check sequence from the website, after that - the add-on will pull the next number in sequence according to the numbering you set.
Note: For your convenience, the add-on will push the check numbers back into QuickBooks, so your register will reflect the correct corresponding check numbers.
Assigning your own numbers to Checks.
To assign your own check numbers you may either import a .CSV file pulled from your accounting software, or use our API to connect directly with your accounting software.
Note: For more information about our API, please contact support directly at 877-333-6964, and ask to speak with an API representative.