We're ready to hear from you
The Deluxe Payment Exchange (DPX) platform is introducing a survey to facilitate user feedback on Tuesday, November 17, 2020. You can access the survey one of two ways:
Using the

pop-up that appears immediately upon log in

Using the Feedback button any time from any screen in DPX
Pop-up Survey
A short, 1-2 minute, survey appears as a pop-up when DPX users log in. If you agree to help, the survey window sits in the background. Once you complete your task and CLOSE your browser, the minimized survey window is "activated" and prompts you to give feedback on your experience.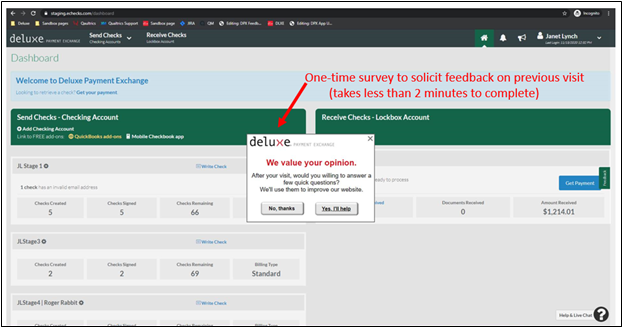 Floating Feedback Button on DPX screens
The feedback button sits on the right-hand side of each DPX screen. When clicked, you can report a problem, make a suggestion, or give a compliment. You can give feedback on multiple areas of the system. Note: if you want Customer Support assistance, the best tool to use is the Help & Live Chat found at the bottom of each screen.
If you have questions, contact our Support Team (contact information in the footer of the website pages, the DPX Help Center and all system-generated emails).